How Do I Get Started?
The first step is to determine what you would like to design.
Necklace
Bracelet
Ring
Pendant
If you have a specific design in mind, our in-house designer will assist you in customizing a special piece.   As you are in the "planning" stages of your new piece, also think about what color diamonds or other gems you would like to use.  Together we will create "the piece of your dreams".
Visit our color chart page where it lists the variations in colors to choose from.  Virtually every color in the rainbow is available for you to choose from.  On the "Our Collections" page you will see how various colors of diamonds can be blended together.  The cost of your piece will be directly determined by the color, size and quantity of diamonds you select.
Contact Wearable Investments so we can discuss your options.  Email your design sketches or pictures of your cherished jewelry to info@wearableinvestments.com and include your contact information. By sharing our twenty plus years of experience with you, we will be able to create a piece that is beyond the ordinary.
Our next step will be make a wax model from the concept of the design.  When completed, you will receive photos of the wax model, the diamonds and/or gems to be used.  Our preferred choice to create the beautiful "one-of-a-kind" piece is to use Fancy Vivid and Fancy Intense diamonds, paired with 24 Karat gold setting.  We will provide a first class piece that will increase in value, hence the name Wearable Investments!
After your approval of the design and cost your piece goes into the final creation stages, the "lost wax casting" process and finishing.  Upon completion you will be contacted and your piece will be sent to you.
Please note that your piece will come with a certificate of authenticity and fully detailed appraisal.  Although Wearable Investments prefer to use 24 Karat gold, other options are available. All diamonds are GIA certified to insure the highest quality of your investment.  Every piece of jewelry is created the "old fashioned" way from a wax model, and then the "lost wax casting".  This insures the wax model cannot be used again, and your piece is truly one of a kind.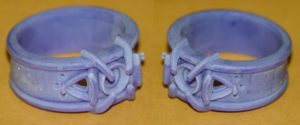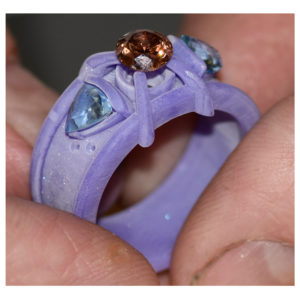 Wearable Investments, LLC
Reading, PA